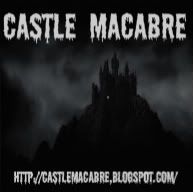 For Elizabeth Lang's next date on The Empire tour with Page Turner Book Tours she stops by with
Castle Macabre
for the twelfth chapter on The Empire Read-A-Long.
Here is an excerpt from chapter 12..
"
"Well, well, well." Kegan's condescending voice, exaggerated beyond the bounds of bad acting, greeted Adrian as he entered the Science Lab. "After your punishment yesterday, I thought they might have to carry you in."
With a frosty glare in Kegan's direction, Adrian arranged the items he needed, scowling at the mess someone had made of his workspace.
No intelligence was needed to guess which petty, vindictive little Tech Commander committed this act.
Professor Boudreaux watched him intently with a faint grin of amusement. "How are you feeling?" she asked.
"
Please click
HERE
to read the full feature.
~*~

Our Next Stops are:
With
My World
for the thirteenth chapter on The Rebels
Read-A-Long